An Ongoing Partnership in Design
A regional musical celebration gets a fully responsive facelift: Blend's five-year partnership with Sioux Falls Jazz & Blues.
A half-million JazzFest fans can't be wrong.
It's rare to get even a dozen people to show up at an event. And then there's the annual Sioux Falls JazzFest — an event that managed to draw more than 100 thousand attendees over three days. Every year. Like clockwork.
For five years (that's nearly 500,000 attendees worth), Blend helped Sioux Falls Jazz & Blues by implementing design updates and keeping the festival's web presence up and moving. In their final year, we took it one step further with a full-out redesign and content model overhaul, allowing editors to make quick updates and keep their mind on more important things: like being front row for the biggest show of the year.
The redesign.
The redesign focused on the two things that an event site should focus on: easy access to the schedule, and easy access to amenities.
It started with Sioux Falls Jazz & Blues' reworking of the site map, freeing up some of the bloat that happened over the years and focusing specifically on what concert attendees need. The lineup was the biggest improvement, organizing the acts by date and time (rather than stage) while still allowing site users to filter by stage.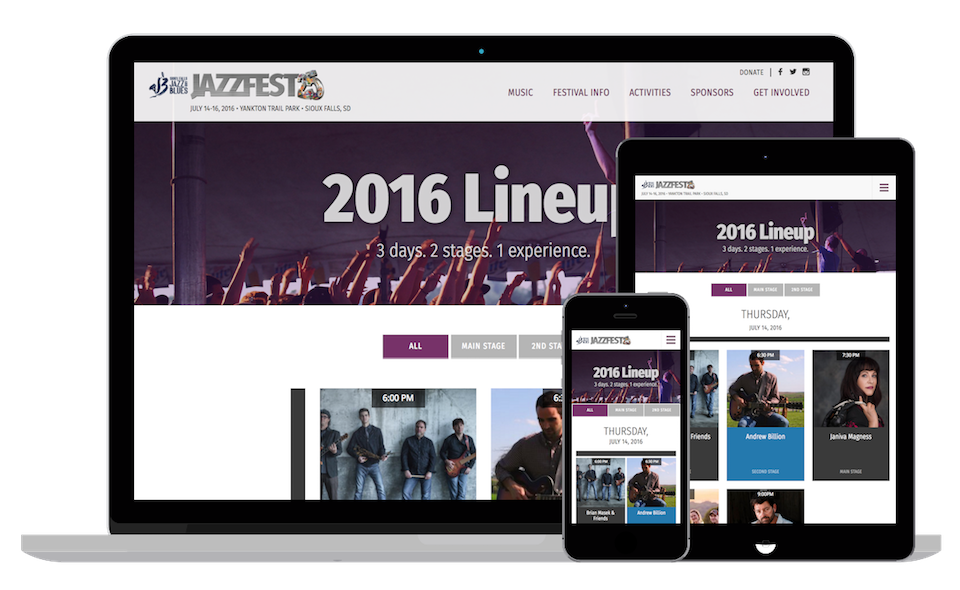 Furthermore, by making the site responsive, Sioux Falls Jazz and Blues was able to serve site content to mobile-bound concert-goers in two different ways: via the Sioux Falls JazzFest app, and through the site itself.
Making it custom.
Even with a simple design, updates can be a pain. This was the case the last few years, as the site's graphics and content needs began to outpace the site's functional abilities.
Beyond moving the site toward a responsive, structured design, we worked with Sioux Falls Jazz & Blues to provide an added level of flexibility. As a non-profit organization with limited staff, it was key to build something that could be bold and useful without making it too complex and cost-prohibitive in the future.
For example, color schemes on the site can be adjusted to match future branding — allowing their small team to make site-wide style changes without having to hire a formal web designer (and without forcing the organization to make complex code changes).
Additionally, all images, logos, and even the footer map are 100% editor-managed, which allows for subtle changes in font and major changes in graphic design — the perfect mix to keep a year-over-year site fresh and vibrant. It's like jazz itself: structured, yet with the freedom to noodle around a bit.
Finally, sponsors are served as their own content type, which makes reusability (and site-wide updates) so much easier. Instead of manually attaching a sponsor to an artist, JazzFest can make widespread changes to a sponsor logo, add a sponsor to multiple areas, and remove a sponsor quickly if they back out over time.
A guide, a schedule, and a lot of fun.
Sioux Falls' biggest concert of the year needed more than just a few flyers and a poster at Guitar Center — it needed a guide, a schedule, and a bold declaration of great music.
From the opening press conference announcing the year's lineup to the final hours of the show itself, the Sioux Falls JazzFest site was a key communication tool. It had to show excitement. It had to convey order. It had to be fun. And Blend was thrilled to help out every year.
Related work.
View event and calendar projects similar to this one.
Helping connect a wide web of researchers, all while doing a bit of research for ourselves.
Managing events across three different venues made easy, accessible, and mobile-friendly within this custom Umbraco implementation.