Connecting a Web of Resources
Helping connect a wide web of researchers, all while doing a bit of research for ourselves.
Client
Energy Impacts Research Coordination Network
Building an interconnected model, and learning a bit about ourselves as well.
It should come as no surprise: the world of energy research is a fast one. But, it's still a regional one, tied to university locations and unique energy situations, from the wind farms of Minnesota to South Dakota's ethanol plants and the traditional oil wells of the south-central United States.
Which makes the need for collaboration and standards so key. Enter the Energy Impacts Research Coordination Network — a multi-university network dedicated to providing a central meeting ground for energy scholars — not just related to the energy sources themselves, but also to their impact across the social sciences.
It's new, and it's exciting. But new and exciting brings one major challenge: how do you get people on the same page and connected?
Finding researchers, easily.
Imagine you are looking for an energy researcher. Someone who can give you information on residential solar energy and its effect on the communities it serves. Someone who lives in the Great Plains, and who has experience with a specific region of the nation.
How would you find them?
The hardest part of research is locating resources — harder still if those resources are people, who aren't constrained to library catalogs and online journals. Energy Impacts sought to connect these resources — these people — by creating a directory of researchers and publications across the nation. The goal was to provide easy access to any related work through filtering by academic field, methods, and even geography. To bring everyone to the same interface, and set them free on the rest of the industry.
The process with Blend began with a long conversation about what needed to be included — and what didn't. For simplicity's sake, we walked through the common research path, sketching out user flows and wireframes in order to provide the best path from a specific research topic need to the eventual connection.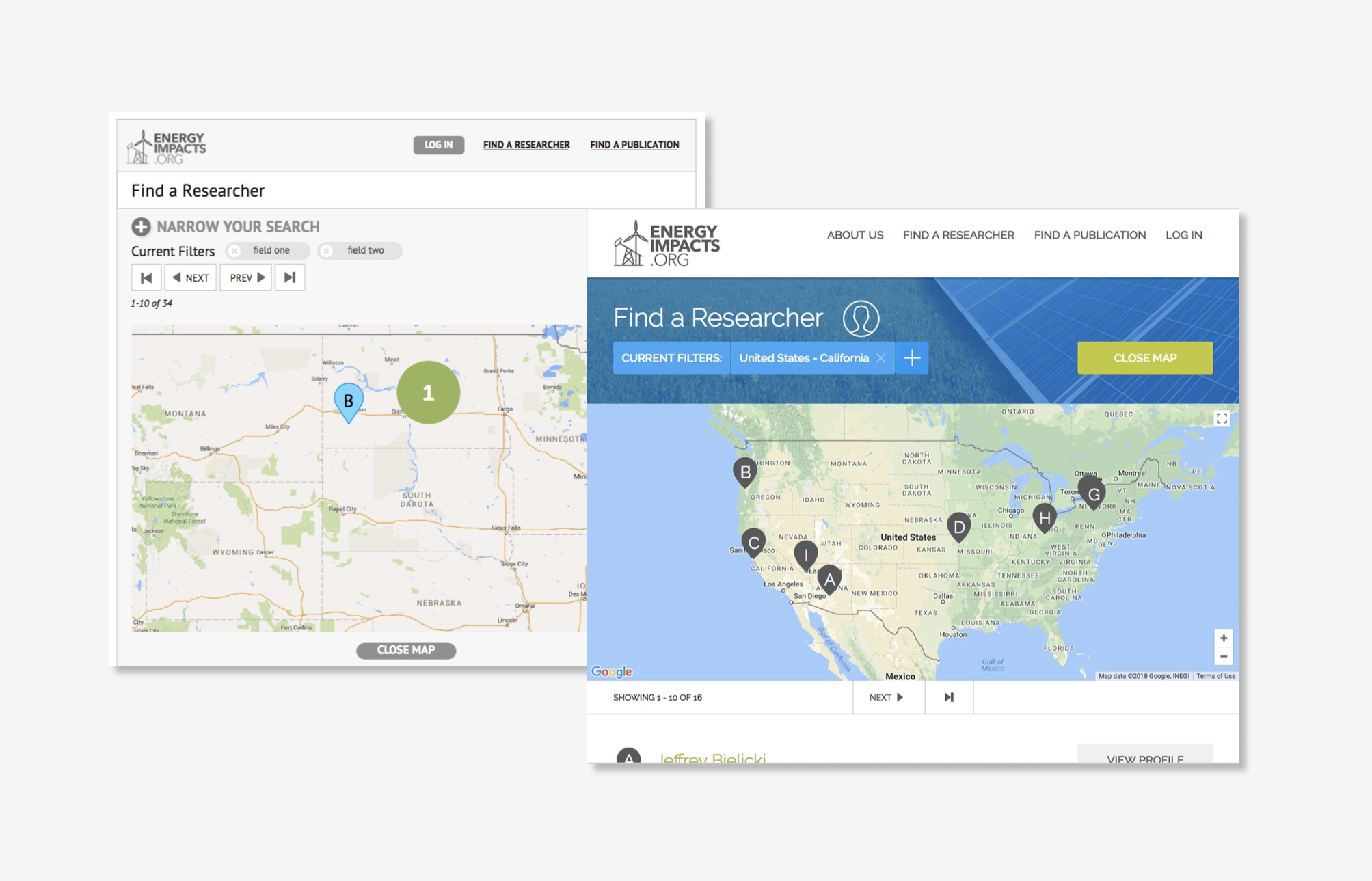 From there, the design was focused on matching the Energy Impacts brand to the modern and responsive design of the application. The app is a separate add-on, not directly integrated into the main site, and for this reason keeping consistency and usability without a jarring shift to a new site was paramount.
The final product — a directory of researchers and publications across the nation, providing easy access to any related work through filtering by academic field, methods, and even geography — brings everyone to the same interface, and sets them free on the rest of the industry.
The choice for Drupal.
The Energy Impacts directory isn't a simple site that relies on a standard tree-shaped site map. Instead, content is pooled and then connected through a common taxonomy model of categories and relations. The taxonomy was set up to allow each individual researcher to be its own unique content piece, and to allow each researcher to upload individual publications that could then be related to other researchers.
Less branching structure. More complex ball of information. Sounds like a job for Drupal.
Our goal was to harness this taxonomy to make things easy — to connect each person and publication through the filtering and search forms, and then provide easy relationships to their work without the need for a separate search. Drupal's dedication to being a torchbearer in interconnected content modeling helped us get there, and even though the site is still being populated as critical mass begins to get closer, we can see the final goal of a connected listing of researchers and publications peeking just over the horizon.
A research project for Blend, as well.
This is where we'll be a bit candid: before this project, we had never worked with a client on an official Drupal project. We'd tested. We'd dabbled and researched. But, in the history of Blend, this project is Drupal Project #1. And that's something we're proud of.
Proud? Of course. One of Blend's core values is the value of advocacy. It's true that we are official partners of multiple content management systems — but that doesn't mean we force a partner CMS into a non-optimal solution. The simple fact is that our job is to advocate for our clients' needs over the needs of our CMS partners, and this was one of those times.
For this project, we began by designating developer Chase Peta as our official Drupal project lead. We understood the training process, communicated it clearly to the team at the Energy Impacts Research Coordination Network, and worked forward from there.
"It started as a group project, but as we worked on it for a couple of weeks I took over," says Chase. "I was the one designated to actually get the design of the site into code. I ran into some complicated items, and a I did a lot of Blend-covered researching, but now I have a better understanding of how Drupal works."
Through lunch and learns, a few hiccups, and a dedication to branching out beyond our comfort zone, we got the project up and successful. And those comfort zones? They changed: now, over two years after project inception, we have several more projects under our belt and are an official Supporting Partner of the Drupal Association.
A powerful tool on a powerful platform.
At its core, the directory app is a simple, swift, and elegant little machine. But for Blend, it became a positive push toward learning something new. And in the connections it's beginning to make, it's an invaluable and weighty success story for the Energy Impacts Research Coordination Network — one that's getting them a step closer to their dream of an interconnected and central research population.
Related work.
View projects similar to this one.
Using Umbraco to create composite content for a region-wide energy rebate system, Blend designed a bright and energetic site.
User flows helped us determine the best way to move users from one point to another, and prototypes helped confirm we were going in the right direction.