A View Into a New Experience: The Digital Viewbook
An award-winning mobile design for all potential students via Texas Christian University's Viewbook.
Client
Texas Christian University
Creating a first impression is important. And when you're competing with hundreds of potential suitors — as any university with a reputation for success often does — those first impressions are even more key.
It was with this idea that Texas Christian University (TCU) came to The Lawlor Group and Blend Interactive to help them design and create the TCU Viewbook, a way to ease new students into the enrollment process through an online version of the traditional "view book." This digital onboarding was important to new students, but also served as a visual assurance to any prospective students: we know what we're doing, and we'll make you feel at home.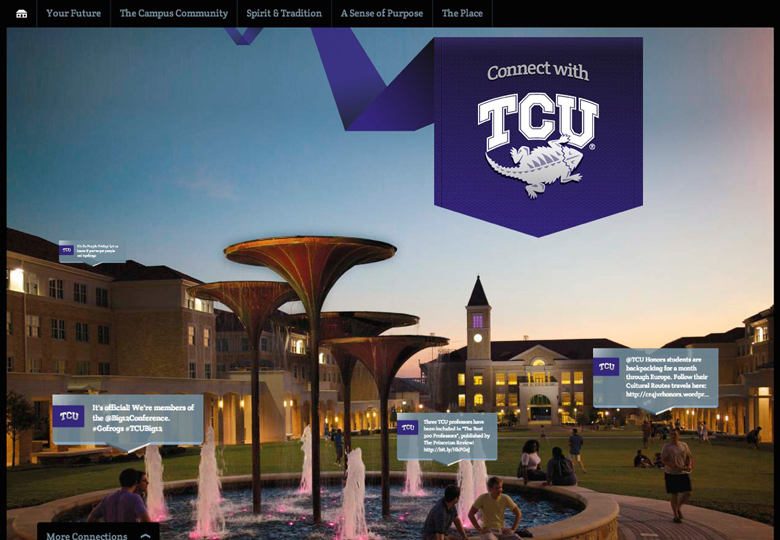 The Lawlor Group worked with TCU to determine key planning considerations and project goals, which include communication of TCU's strengths - a diverse private-university experience, a vibrant city, a culture that nurtures curiosity - and higher academic enrollment, all while conveying the value of the financial investment in TCU.
Meanwhile, Blend was tapped to handle design and development for the TCU Viewbook, with a goal of giving a prospective student a quick overview of what TCU is about. The microsite was designed to encourage prospective students to dig deeper into the existing TCU site.
The strategy behind a viewbook is simple - cater to a narrow audience without losing the overall effectiveness of the full university site. In our case, the viewbook served as a portal of sorts - sending prospective students in the right direction without overwhelming them with the full content of www.TCU.edu.
Blend began by developing mood boards, which helped narrow down the look and theme of the viewbook without diving into structural details. Using this design direction, we created two distinct options to depict the "look and feel" of TCU.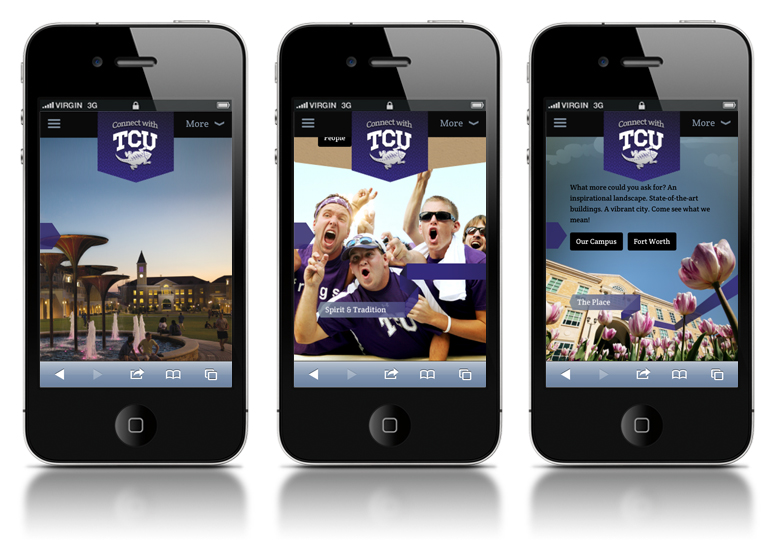 The site was designed to include hand-picked Tweets, embedded video. We used parallax scrolling to help present the illusion of movement. The Viewbook is not just an informational piece - it's designed to wow and impress a prospective student. Through a mix of jQuery, jQuery UI, Modernizr and a whole bunch of custom javascript, HTML and CSS, we created a unique experience independent of any existing CMS.
Because we believe the best screen is the one in front of you, we naturally designed the site to adapt to mobile screen sizes. This means making concessions and understanding the needs of the mobile user. We developed the viewbook with a hybrid approach of responsive and adaptive design - for example, disabling parallax for tablets and designing a mobile layout with a new set of markup.
The site launched in August, just before high school students began their new school year. With full web integration and the ability to adjust content, TCU has a tool at their disposal that can both impress and inform. Because when it comes to students making what is the biggest decision of their lives at that point, it's important to nudge them in the right direction.
Project results.
A mobile-first introduction to TCU for their newest students
Completely customizable by TCU's digital communications team through the CMS
Winner of a digital Best in Show at SDAF's annual ADDY Awards
Related work.
View higher education design projects similar to this one.
Strategy and design for hand-off: our work developing a strategic design for an OmniUpdate university site.
Updating the design for Minnesota State University Mankato in a way that didn't remake the entire website.