Introducing BEEP, Blend's Education Exchange Program
Before our internship program starts up again next summer, we're excited to announce our first mentorships starting this spring 2020.
Our community at Blend extends far beyond the doors of our office in downtown Sioux Falls.
We make complex websites better, and, of course, that means we're a part of the larger online community. But not all of us started in the web industry. Some of us took winding paths to our jobs as developers or project managers.
Often, in a career fraught with impostor syndrome, we recognize just how valuable it would have been to have a mentor in our first few years of working on the web. Now, thanks to a new program we're starting at Blend, we'll have the opportunity to be that voice of guidance to up-and-comers.
We're proud to announce BEEP, Blend's Education Exchange Program, with mentorships starting this January and continuing through May.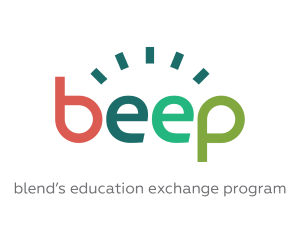 Through regular one-on-one conversations with someone from our team, our mentees will have a dedicated resource to help with projects, give advice on career paths, and lend an inside look at our industry.
A few particulars:
Once paired with a Blend team member, you two will decide upon a set schedule, whether that's a 30-minute phone call per week, an hour meetup in person every other week, or something else. We want our mentors and mentees to shape their program to fit their individual preferences and schedules.
We're looking for mentees that are open to learn networking skills and what it's like to work in an agency setting. It's important to us that you're dedicated to making the web a better place.
Blend's expertise is in accessible website design, backend .NET and other C# framework development, complex API and data integration, frontend HTML/CSS/JavaScript development, strategy-first design, and digital project management. While we do love programmers and project managers of all stripes, we want you to know where we can help you the most.
If you're interested in becoming a mentee, please send a short essay as to why you feel you'd be a great fit for the program to ships@blendinteractive.com by Friday, December 27, 2019.*
Additionally next summer, we're continuing BLIP, Blend's Little Internship Program. Our chosen intern will work closely with our team on various Blend projects and real client work, getting a glimpse of how projects flow, how we communicate with clients, and how we collaborate with each other.
We've had great success with our internships, and have had the pleasure of hiring on multiple graduates as full-time team members.
If you'd like to apply for our internship, applications are due Friday, February 21, 2020. Please send your resume and cover letter to ships@blendinteractive.com.