Blend Named Among 50 Best Places to Work
Blend Interactive was among a group of northern Plains businesses to be named the 50 Best Places to Work by Prairie Business Magazine.
Blend Interactive is proud to have been named by Prairie Business Magazine as one of the 50 Best Places to Work in the northern Plains.
Companies were nominated through an anonymous employee satisfaction survey and rated in areas including work environment, employee benefits, and employee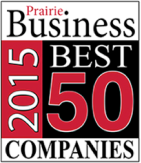 happiness. Consideration was also given to the number of nominations received per company. Prairie Business received nearly 2,500 surveys nominating more than 140 companies.
To view the full list, head over to Prairie Business Magazine's spread.
We're always on the lookout for talent.
We like smart people who can work with others, enjoy a bit of collaboration, and get some great work done. If you think you're that kind of person, check out some of our openings and future opportunities, or drop us a line.
We are on the lookout for talented, detail-oriented, experienced .NET stack developers to join our expanding development team.
Blend has a position for a full-time role to provide communicative and administrative operations support in an extremely well-organized and timely manner.