Bike to Work Week 2017 Gets Blend Team Moving
Not only did we ride our bikes, but one of us won a t-shirt, too.
When Blend applied to be a Bike Friendly Business — a program set up by the League of American Bicyclists — in 2015, a few of the policies we implemented were simple: providing a place to park bikes indoors, a place to freshen up post ride, and a bike stand and tools. Others, like having an in-house bike mechanic, we kind of lucked out on. (Thanks, Marshall.)
But being a Bike Friendly Business means more than just having some tools lying around — it also means providing support and a bit of biking encouragement to our employees.
Enter Bike to Work Week 2017. A product of the League of American Bicyclists, Bike to Work Week offers dozens of ways to encourage new riders and energize die hards. Here in Sioux Falls, the Falls Area Bicyclists planned a week filled with energizer stations at local coffee shops, bakeries, and churches — and, they took charge of organizing a local version of the National Bike Challenge inviting teams of businesses to compete for the coveted Bike to Work Week Trophy.
Here at Blend, Sales and Marketing Coordinator Kerrie Vilhauer, a member of FAB, was a part of public relations efforts and was also the main cheerleader pushing the Blend crew to get their bikes out for the season and ride to work — even in the rain. And because we're already data-driven and competitive, the National Bike Challenge site helped us compare to each other — and other Sioux Falls companies — to see how we measured up.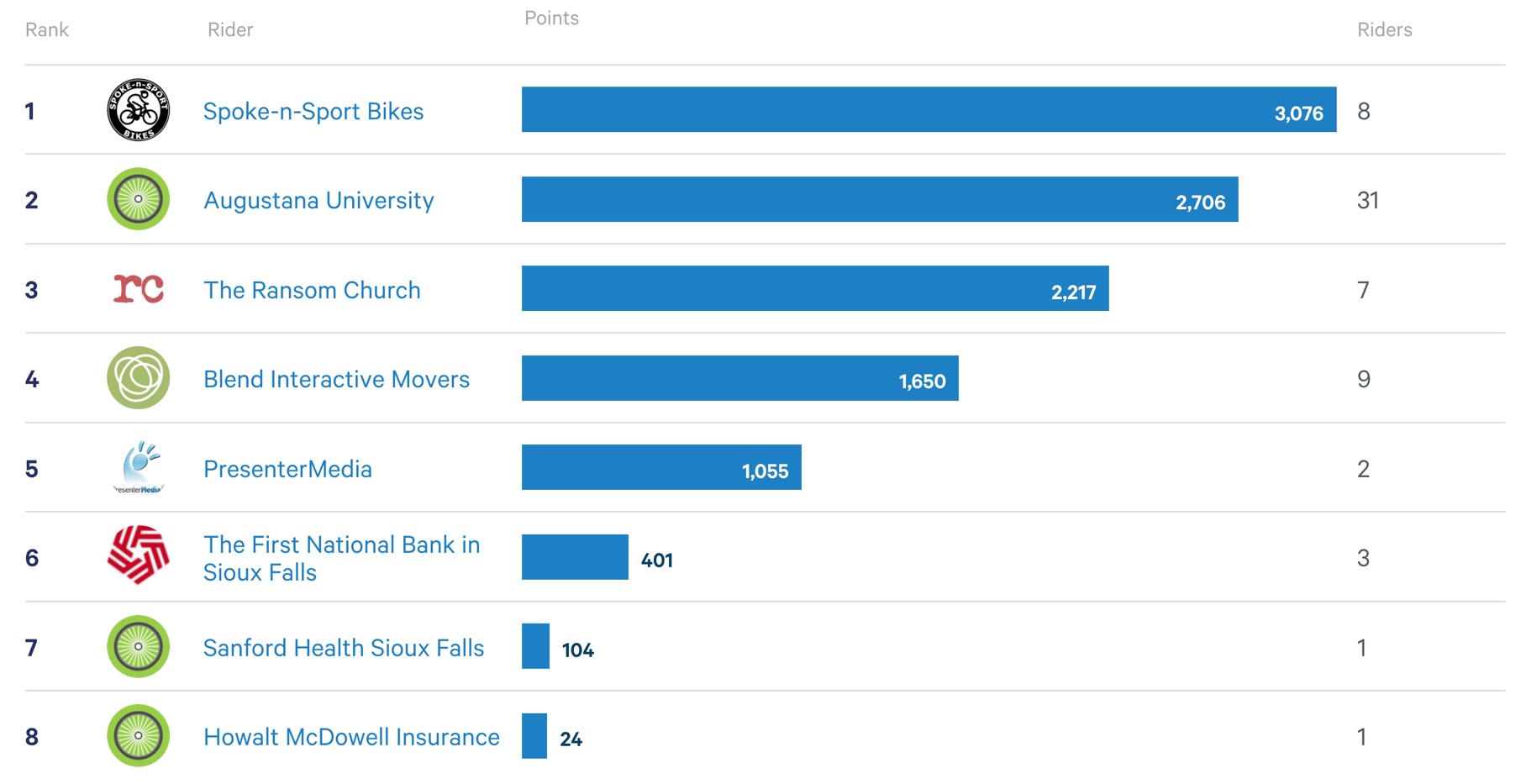 Sure, even with six Blend employees (and a few family members) on board, we didn't have quite enough leverage to win the contest. But we did end up in fourth place, and considering the National Bike Challenge inspired a number of people to ride who may not have otherwise, we'll call that a win.
Sioux Falls currently has three bike friendly businesses in addition to Blend: Spoke-N-Sport, Presenter Media, and Electric Pulp. Looking to be one? Check out the League of American Bicyclists, or reach out — we'd love to help.